"Tax collectors and other notorious sinners often came to listen to Jesus teach" (Luke 15:1, NLT).
It all began from a series of sermons I took in 2006 on the theme "Biblical Motives for Evangelism". Towards the end of the year, I preached a sermon in which I argued that one of the biblical motives for evangelism was God's sovereign election. We must be persuaded that in the midst of every grouping of people God has his elect people whom he intends to save. In order to drive the point home, I stated that some of God's elect are presently prostitutes in the streets of Lusaka. God expects us to reach out to them with the blessed gospel of his grace. I mentioned that in order to reach them we needed to go out of our comfort zone, just as a fisherman goes to the river to catch fish.
That week, God touched one of the women in the church—Prisca Phiri. She asked her husband to drive her in the middle of the night to a spot where she usually saw prostitutes lined up to be picked up by men. Upon getting there, her husband remained in the car while she started speaking to these women. She was shocked to discover that most of them were not opposed to hearing the gospel from her. They patiently listened and asked very personal and practical questions about true repentance and faith.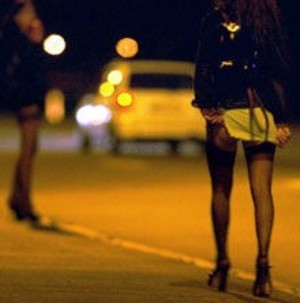 Prostitution is rife in Zambia and is a major cause of AIDS
However, convincing them to leave their trade that evening was next to impossible. These women asked, "If we stop what we are presently doing, how shall we feed our children at home? We have no other source of income—absolutely none!" Not wanting to promise what she could not deliver, Prisca emphasised that if they gave their lives to Christ, God would be their Father in heaven and would hear their cry for provisions. To many, that sounded like "a pie in the sky". However, that first evening she managed to convince one of them to go back home and she even drove her there with a promise that she would return to help her spiritually and materially the next day.
Outreach to the prostitutes begins in earnest
The next day, Prisca came to my office and recounted her experience the previous evening. With eyes full of tears, she said, "Pastor, my heart went out to those women that I always just pass by. They are truly needy. We need to do something for them." I urged her to share her experience with the church and especially with the women's ministry in the church. Thankfully, the women's ministry took this challenge up—hook, line and sinker. That was how the church's outreach to street* girls was born in 2006.
The strategy our ladies used was that of meeting with the prostitutes at night and seeking to persuade them to be taken back home, with a view that the next day they would get a home visit from the church. Once any of them accepted to do so, they would be taken back to their home. The ladies would begin conducting evangelistic Bible studies in their homes and also invite them to church on Sunday. The women, strangely enough, would also invite their neighbours to come and hear the gospel in their homes.
A recently converted "street girl" helping by the bedside of my sick sister
As God would have it, some of these street girls began coming to church. They would normally sit together and so they became easily identifiable. A few women in the church began to fear for the "safety" of their husbands and, consequently, of their marriages. Thankfully, these fears were soon set aside as one by one these women started yielding their lives to Christ, being baptised, and joining the church.
"Jesus would be in my sitting room!"
My wife, Felistas, joined this ministry to street girls soon after its commencement and it immediately changed the chemistry of our Sunday afternoons. Due to the fact that the manse is on the church compound, it was convenient for the street girls who started coming to church to spend their afternoons together in our home for discipleship lessons. To give them maximum freedom, after joining them for lunch, I would hide myself away but would hear their conversations as the newly converted ones shared the gospel with others who were not yet converted. They often shared their testimonies as a way to encourage their friends who thought that Jesus could not forgive such a dark past. On a few occasions, upon eavesdropping on the conversation among them, I would send a text message to the elders saying, "I know where Jesus would be this afternoon if he was physically present on earth. He would be in my sitting room! See Luke 15:1."
SMB, a former "street girl", now working as a traffic controller
I recall one day in 2007 hearing one of them ask my wife during one of those Sunday afternoon sessions if she could pray right there and then for God to pardon her. No sooner had she started praying than she broke down and started wailing like an African woman who had lost her only child. She pleaded with the Lord to save her and indeed he did so. Later that year I baptised her and welcomed her into the membership of the church. She is presently a very committed church member and has been instrumental in bringing others to the church to hear the gospel. She also participates in the evening street outreach because she wants her friends to also experience Christ's salvation. Felistas recently told me of a street girl who recently professed faith in Christ because she said if Christ could change her friend's heart then there was hope for her as well.
My greatest joy (apart from eavesdropping on those Christ-exalting conversations in our lounge) has been to see some of these street girls come forward to testify of Christ's saving grace through the waters of baptism. It is truly overwhelming to imagine that in the midst of those in our communities who drink of sin as if it was water there are those upon whom God set his affections before time began. It is even more wonderful to behold them as they seek to live for God's glory in the church among the saints of God.
SMB joyfully helping school children cross the road safely
Finding them legitimate forms of income
The greatest challenge that our ladies ministry has had to wrestle with is how to help these women who were getting converted to find another means of livelihood. Merely giving them money was unsustainable. Giving them loans to start small scale businesses looked plausible, but it soon became apparent that to do business you needed to have business acumen, and they did not have that. They tried to conduct workshops for them, thinking that it was a problem of lack of knowledge, but that did not work. So, many of them have been kept on short term jobs while more long term opportunities are being awaited. Pray with them that God would open doors for legitimate forms of employment.
[* Before these ladies became part of our church, we easily called them "prostitutes". However, now that a number of them are regularly present in our worship services, this term has proved very difficult to use in order not to be offensive to them. We are also unwilling to adopt the worldly phrase "sex workers" because sex is not work! So, we have settled for the phrase "street girls" until we can find a term that is more suitable.]